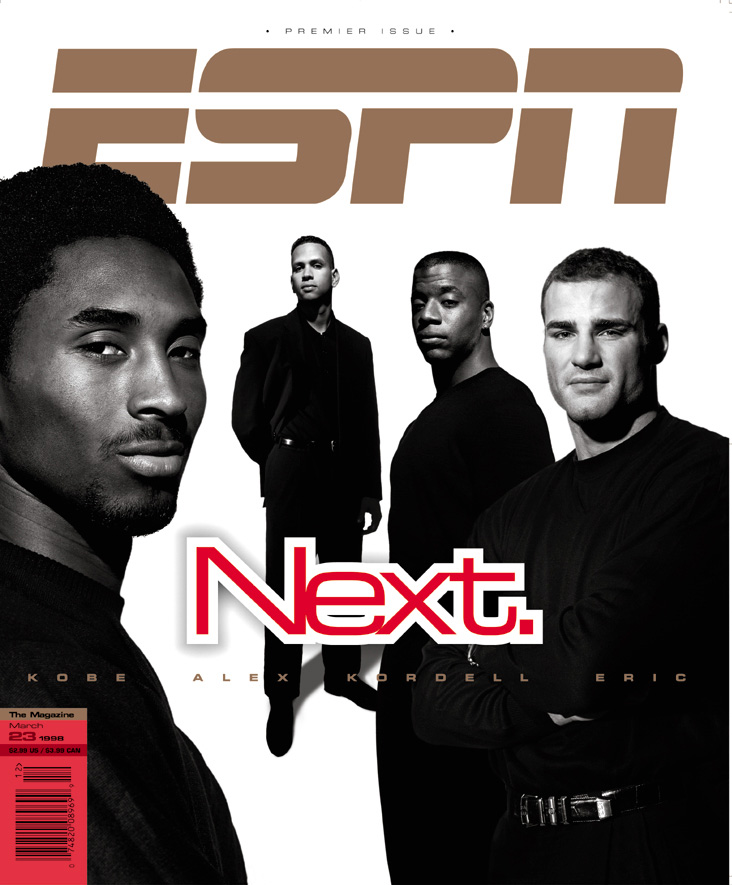 ESPN the Mag's NEXT issue is on shelves soon and they've rolled out their annual big four for us all to debate over. Every year, they seem to get the top obvious two right and then pitch two reaches on you. Then they choose their top guy (or girl) and give him the cover. This year is no different.
In years past, they have chosen some bonafide superstars as NEXT, which in some cases wasn't difficult to see. There are always the second-tier NEXT-ers who have varied in fame from Star to Nobody, but I'm just looking at cover guys for this quick recap. NEXT started off in 1998 with the two spot-on choices of Alex Rodriguez and Kobe Bryant. A-Rod and Kobe are both arguably the marquee players in their sport and made NEXT look real good right off the bat. Kordell Stewart also got on it, but ESPN is trying to get everyone to forget that. In '99 Randy Moss and Keith Van Horn shared the cover, you can see how that one turned out. Then in the following years, Vince Carter ('00), Yao Ming ('01) and Brian Urlacher ('02) became solid choices who all are leading great careers with various shades of superstar status and production.
The came '03, where LeBron James was the easiest NEXT choice that there will ever be. He is a Super-Mega-Ulta Star who may be the NEXT-best ever. Then, they coupled that with the worst NEXT selection ever in, you guessed it, Kaz Mazui! This one is a terrible, terrible miss. Kaz couldn't be less ordinary in every way. He plays good defense but that hardly makes you NEXT. Anywho, Adrian Peterson, a certifiable stud, brought it back in '05, but Reggie Bush ('06) isn't producing up to the off the charts potential he so often showed at USC. Dwight Howard ('07) has been an absolute monster and should make the NEXT crew at ESPN look real smart for years to come. Then, Joba Chamberlain to follow in '08, who is looking like he rode the Yankee hype machine straight to the cover.
So if recent history repeats itself, the '09 NEXT should be spot on. So here's my rundown of the participants:
David Price: This fireballin' lefty exploded on the MLB scene this October by shutting down the all-mighty Red Sox and gaining national attention in the process. The former #1 draft pick has exceeded all expectations by blazing an almost immediate trail to the bigs and mowing down nearly every hitter in his way. Couple his dominant fastball with a power slider and other plus off speed stuff and Price should be a great frontline starter for years to come. Right now, Price is riding the hype machine hard and all indications point to him not disappointing. Other possible MLB NEXT-ers are Jay Bruce and Tim Lincecum, but Price is the best choice. Bruce isn't exciting enough nationally and Lincecum has already accomplished a ton. Price gets the ever-important (or not) Mike seal of NEXT approval.


Matt Ryan: Ryan is already front-runner for the Rookie of the Year and we're only half way through the season. First round QB's are so often busts that Matty Ice is a tremendous breath of fresh air. The Falcons are fun to watch and surprising everyone, who saw this coming?!? Ryan is poised in the pocket and throws a beautiful deep ball. He deserves this NEXT and at this moment looks more than ready to make good on his selection. Another NFL worthy NEXT would be San Fran's Patrick Willis who is a MON-star LB, who led the NFL in tackles last year as a rookie. He's long been a Cheap Seats favorite, but you wouldn't know that because we only started so recently ago.


Joey Logano: I don't waste time talking Nascar. It's not my style.


Ricky Rubio: I've been intersted in this guy ever since I heard he could be the next Pistol Pete Maravich. "The Pistol" was the only of his kind, so to be compared mentioned together in the same breath, must say something about Rubio. He'll never be Maravich because he lacks the pure shooting, but Rubio is a dynamic playmaker who'll be wow-ing crowds in an NBA city near you. Also, Rubio managed to shine on a Spain team with many NBA caliber players in Rudy Fernandez (a fantastic rookie with the Blazers), Pau Gasol (the Lakers star PF), Marc Gasol (a young Grizzly - I think - with wild potential) and great Raptors PG Jose Calderon.
When it comes down to it, I've got to endorse Matt Ryan as the next ESPN NEXT cover guy. He's already showing the key intangibles to be a great QB and is leading an average Falcons team to the contending season that they never saw coming. Also, he shares the name of Cheap Seats Founder Matt (Ryan). That has to stand for something. What kind of self-respecting blog would we be if we couldn't support someone who's practically our own!? In Matty Ice we trust!