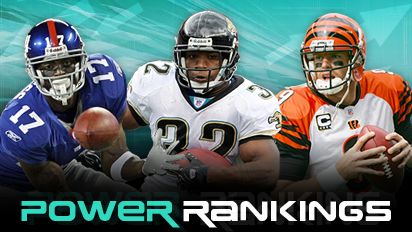 1. Giants (10-1) – I hate to say this, but the Giants could be a dynasty in the making.
2. Titans (10-1)- They are who we thought they were!…an above average team
3. Jets (8-3)- I'm still not convinced the Jets are the best team in the AFC, but the Giants proved last year that the best team doesn't always win. They've won six straight.
4. Buccaneers (8-3)- Three straight divisional games will decide the Bucs fate. They are guaranteed at least the 2 seed if they win out.
5. Steelers (8-3) – The #1 run defense, #1 pass defense, and #1 defense overall. If Willie Parker ever gets healthy this team will be scary good.
6. Cowboys (7-4) – When Tony Romo and T.O. are healthy, there isn't a better combination in the league. Of all the potential wild card teams, Dallas has the best shot to make a playoff run.
7. Colts (7-4) – You heard it here first, the Colts will represent the AFC in the superbowl. Peyton Manning means business.
8. Patriots (7-4) – Tom who? Matt Cassel has officially earned a chance to be a starting QB in 2009. The only question is where.
9. Panthers (8-3) – This defense, much like the entire team, is very overrated.
10. Cardinals (7-4)- The final score didn't accurately reflect the beating the Giants put on the Cards. They are a solid team, but clearly not elite.
11. Falcons (7-4)- Without a doubt the second best team in the NFC South. This may not be their year, but the future is incredibly bright.
12. Redskins (7-4)- They face a huge test this week vs. the Giants. If they can pull out a win I'll be impressed.
13. Saints (6-5)- When this offense is clicking, it's scary. The NFC South race is far from over.
14. Ravens (7-4)- The Ravens defense is partying like its 1999. That was serious domination.
15. Vikings (6-5) – The spin move by Chester Taylor in the 1st Quarter was one of the best I've ever seen. You gotta love watching the Vikes run the ball.
16. Dolphins (6-5) – Losing Greg Camarillo is a bigger blow than most people realize. Time for Ted Ginn to step up.
17. Bears (6-5) – It's a shame that they can't give rookie of the year honors to Matt Ryan and Matt Forte.
18. Broncos (6-5) – If I were a doctor, I would diagnose the Broncos with bipolar disorder. How do you beat New Orleans, Tampa, San Diego, and Atlanta, but lose to Oakland and Kansas City?
19. Packers (5-6) – They're still right in the thick of the NFC North race, but the defense really let them down on national TV.
20. Bills (6-5) – Entering desperation mode, the Bills finally got the performance out of Trent Edwards they had been waiting for.
21. Eagles (5-5-1) – Classic Eagle fan stupidity. They're either the best team in the league or the worst team in the league. Listening to talk radio in Philly you'd think they were talking about the Lions. Bottom line: the Eagles are an average team in a difficult division. They will bounce back this week with a big win vs. Arizona.
22. Chargers (4-7) – I think it's time for the Chargers to admit that firing Marty Schottenheimer was a mistake. The Chargers are extremely talented, but they find ways to lose. That's the mark of a bad team.
23. Jaguars (4-7) – Once again, I don't even know where to begin with the Jags. Immensely talented, but they can't buy a win. I have to point the finger at the head coach.
24. Browns (4-7) – With the Brady Quinn era on hold, it's time for Derek Anderson to accumulate some trade value.
25. Raiders (3-8) – Outstanding team effort this week. I gotta give the Cable guy credit.
26. Texans (4-7) – I don't know how it's possible for a team with such dynamic playmakers to be so boring to watch.
27. 49ers (3-8) – The 3-8 Niners are in second place in the NFC West. Unbelievable.
28. Seahawks (2-9) - They had a good shot to engineer a comeback victory against a good Washington team, but Matt Hasselbeck blew it.
29. Chiefs (2-9) – Herm Edwards has some explaining to do. Larry Johnson starts out with 3 carries for 80 yards, and they only give him 4 more carries all game?
30. Bengals (1-9-1) – It's hard to believe this team was a playoff contender just 2 years ago.
31. Rams (2-9) - At first I thought Jim Haslett was going to keep this job in 2009. Now I'm not so sure.
32. Lions (0-11) – Those poor, poor Lions fans. Here's a question…would the Lions dare draft another 1st Round receiver (Crabtree)? That would be a deadly combination.