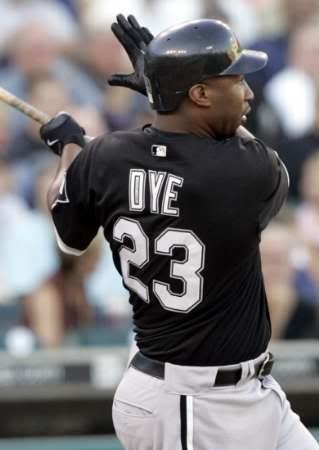 It looks like the hot stove is finally starting to heat up. According to the
Dayton Daily News
, the Reds have acquired
Jermaine Dye
in exchange for disappointing prospect
Homer Bailey
.
At this time, this trade is little more than an internet rumor, and it has yet to be confirmed by either team.
A major-league source close to the situation told The Dayton Daily News on Sunday, Dec. 7, "The deal is done and will be announced this week."
The Reds are in the market for an outfielder and moving Bailey makes sense. The 22-year-old righthander, the team's No. 1 draft pick in 2004, has not lived up to high expectations and some club officials believe a change of venue would be best for him.
Bailey was 0-6 with a 7.93 ERA in eight starts with the Reds last year and was only 4-7 with a 4.77 ERA at Class AAA Louisville.

This trade seems to make sense for both teams. The Reds anemic offense will get an instant boost from Dye, who is a career .278 hitter, and has routinely demonstrated 35+ HR capability. The 12 year veteran can basically fill the void left by Adam Dunn, while providing more consitent contact.
On the other hand, this is somewhat of a gamble for Chicago, but one that I really like. I had high expectations for Bailey coming into last year and he failed to deliver. Rumors have been circulating throughout the offseason that Bailey is uncoachable and arrogant. But the fact remains that Bailey is only 22 years old, and has outstanding stuff . He was dominant in his minor league career, and maybe a change of scenery will do wonders for Bailey. If Bailey does improve this season, he will join Gavin Floyd and John Danks to round out a very good, and very young rotation.

One thing that I can say with certainty is that this looks to be a very active winter meetings. Last year saw blockbuster deals that included Miguel Cabrera and Dontrelle Willis, while the Mets made significant progress in their efforts to acquire Johan Santana. I get the feeling that there will be several big name signings and trades in the coming days.
UPDATE:

"Reds GM Walt Jocketty categorically denied a report from the Dayton Daily News that Bailey was traded for Dye," reports MLB.com.
"Wrong. It's not even close," Jocketty told reporters. "We haven't had any discussions with the White Sox since before Thanksgiving."