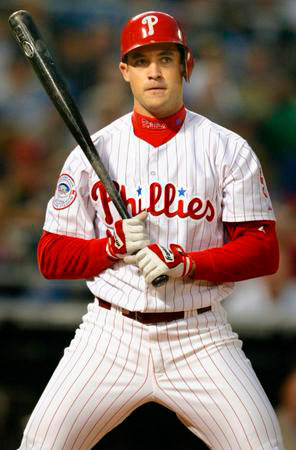 Barring an introduction of the DH to the National League. Today marks the end of an era. The
Pat "The Bat" Burrell
era in Philadelphia. This era surely had it's ups and it's downs and things weren't always happy. A few years after being the Phillies first round pick, Pat set the world on fire in '03 and was awarded with a huge contract extension, things couldn't have been better. Then, Pat put some dreadful seasons together with mild success and hot streaks scattered in between. Finally, to end the era, Pat the Bat hit the double that lead to the game winning run, in the clinching game of the World Series for the Phillies. It was a storybook ending to say the least and it all ending today, now that the Phillies have signed his replacement,
Raul Ibanez
, from the Seattle Mariners.
I love The Bat, and hate to see him go. He was the subject of more hilarious comments than I can begin to remember, but let's look at this rationally in a Burrell vs. Ibanez, comparison showdown:
Contract:
Burrell: The Phils reportedly offered him 22mil/2 years, which would have been a smart move, but he declined. Anything more than that, would have been too much, in years or in dollars. Pat is only 32, but plays like he's 38.


Ibanez: The deal he got was 30mil/3. About market value, which really isn't too bad. In year 3, Ibanez will most likely be dead weight, but that's how it is with most free agent contracts nowadays. At 36 now, 38 & 39 are going to be tough years to expect top production from him.
Offensive Skill:
Burrell: Big-Time power, but overall his skills are diminishing, quickly. When Pat is using the whole field he can be dangerous, he showed this earlier in '08, but those moments are few and far between. His best years were half a decade ago in '03. Also, Burrell may be the slowest man to don the Philly Pinstripes since John Kruk. Even Ryan Howard has got him by a few steps.


Ibanez: He hit near .300 this year with good power (23 hrs) and solid production all around. He's also knocked in 100 rbi's the last 3 seasons, in Seattle no less. Ibanez also brings atleast speed better than Burrell's, but he isn't much of a runner either (2 sb's in '08)
Defensive Ability:
Burrell: A total disaster in LF. Constantly was pulled in late-innnings for defensive replacements.


Ibanez: Maybe a step better in the OF, but only a step. In doing some Raul Ibanez reading, I am getting the feeling that Mariners fans weren't a fan of his OF play either. But a step up nonetheless.
Fit in the Lineup:
Burrell: When he is playing well, Pat is the perfect fit. He's a power-hitting right handed bat. Exactly what we need to protect Utley and Howard.


Ibanez: He is a lefty with moderate power and good average. Not at all what we need, but he did hit .300 against left-handed pitching in '08, although he hits .260 against them lifetime.
Personality:
Burrell: This is the kicker for Burrell. Once Phillies fans (myself included) stopped expecting Pat to be a superstar and just accepted him for what he is, Pat became an instant fan favorite. The stories about Pat's late-night habits and exploits were no longer a burden, but hysterical. It was daily comedy making jokes about how hungover Pat was at batting practice earlier. Or how drunk Pat Burrell after the Phillies won the World Series.


Ibanez: Does Raul Ibanez have a personality?
Outcome/Results:
I'm not excited about the Raul Ibanez signing, however, I think there's a good chance that he does a good job and puts up some solid numbers hitting in the Bank. Also, at Pat's market value, I don't think he produces well enough to bring him back at the contract he will most likely receive.
But I can't hate the feeling that there are smarter options that the Phillies could have explored. I have long talked about Adam Dunn and how much I like him and I wish the Phillies would've tried to sign him. Atleast if we aren't getting a good upgrade with the glove, you know that you're getting a monster bat. Him and Howard would strikeout a ton together, but probably hit 50 home runs each! Mark DeRosa (UPenn Grad baby!) would be a great option for us if we could deal for him because he plays a good LF and could fill in a 2B until Utley returns. He may not have a fantastic bat, but is he that much worse than Ibanez? What about Milton Bradley? I think he is a far more accomplished hitter than Ibanez and he is 6 years younger! He may be a head case, but he is a player and a good one at that.
Well, there's no going back now and it is Ibanez or bust. So we'll just have to see if Ibanez is the answer or if next winter the Phillies will be looking to eat his contract and find a different guy.